So Adam has been drawing a lot lately, especially on his tablet, and I've been envious.  It's no secret that drawing has taken a back (WAY back) seat for me over the last year as my novel has become my primary focus and writing in general (for CSBG, this blog, and a handful of other things) has become my secondary focus…but I miss drawing.  And I've been trying to figure out a way to get it back into my life in a practical and productive way that won't eat up all my time.
Adam's recent AWESOME drawing of us has inspired me to get serious about it.  Oh, um…NSFW?  Too late?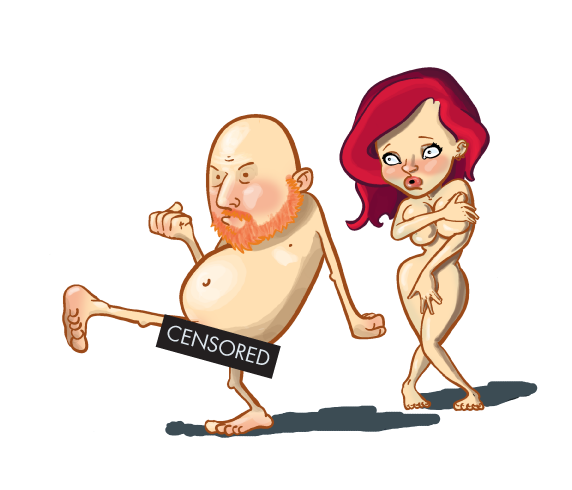 Anyone who knows us knows that Adam has been (wisely) very kind to me and as usual very unkind to himself in this depiction – but I love it anyway.  I wish I was that cute…in cartoon form…or any form!
Anyway, the awesomeness of Adam's drawing has inspired me to try a new blog project that will both get me drawing again and also help me to work on my new tablet skills.  So the new Sketch-A-Day feature will be just that, a sketch every day (Monday through Friday) posted on the blog and created either on the tablet or by hand in a minimum of 10 minutes and a maximum 60 minutes (I'll be focusing on the tablet to see if I can hone my skills on it, but there will be some traditional non-tablet work done as well).  I'll try my best not to draw only sexy curvy girls, as that is pretty much my default setting when I sketch…but no promises.*
So we'll see how it goes. The Sketch-A-Day posts will start on Monday, February 1st.  See you then!
* It's important to note up front that NOTHING I do will look as good as what Adam has done here.  For two simple reasons…1) Adam has always been and will always be a far better and more naturally talented cartoonist that I am and 2) Adam took WAY more than an hour to do this.  So lower your expectations already!
Comments are now closed.