So this week the bookmarks for THE GIRL WHO WOULD BE KING arrived.  I was originally only going to do three, but Stephanie and Meredith's illustrations were so great I had to do six.  They are AWESOME.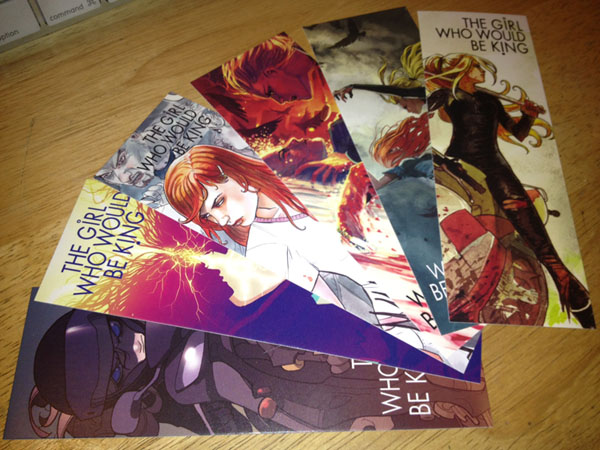 Matte finish so they don't get a million fingerprints, huge thanks to @erinjadelange for turning me onto Next Day Flyers for these!
Oh, and here's the obligatory do you have THE GIRL WHO WOULD BE KING yet?  If not, buy HERE (for Kindle) and HERE (for Nook and iPad Compatible).  Also, I'm going to be running a contest next week, for a chance to win one of five deluxe packages (including the hardcover with full color illustrations by Stephanie Hans), but one of the ways to increase your odds to win, will be by answering questions from Part I of the book – so buy your digital copy now and get reading! You can read an excerpt here if you're still on the fence.
Have you already read THE GIRL WHO WOULD BE KING and not yet reviewed it? What are you waiting for?!  People are saying awesome stuff like this:
"Once I started reading, I couldn't put it down." – Megan S. (Amazon)
"If you like strong female leads and non-stop action, this is definitely for you." – L. Cappelli (Amazon)
"The writing is electric, relying on colorful imagery and breakneck pacing that brings to mind comic panels fed into a HD film projector. It makes me drool at the notion of a possible graphic novel. Reinforcing that four-color feeling are the girls' association with their powers in pop iconography while hinting, then directly pointing to a much deeper and more potent source. The whole thing comes off like if Neil Gaiman and Brian Michael Bendis had locked themselves in a cellar to determine what made superheroes great and what made a great superheroine and launched their results from a trebuchet at the internet." – January Hooper (Amazon)
"Amazingly written and clever dialogue, coupled with mind-boggling and sentimental characters make this book a masterpiece in the literature world. If you are even hesitating to buy this book– you are doing yourself a dis-service. BUY THIS BOOK." – Grant Hayward (Amazon)
Keep 'em coming guys…because reading things like Lola is "Ghengis Kahn in a catsuit" will NEVER stop me from smiling!  Thank you!!!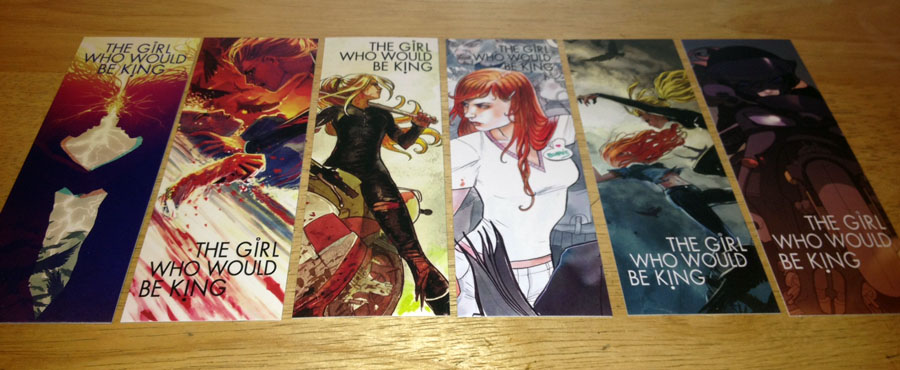 Tags: Bonnie Braverman, Lola LeFever, The Girl Who Would Be King
Comments are now closed.